We keep your comfort in mind, even for daily maintenance.
We keep your comfort in mind, even for daily maintenance.
Under a special, protected exterior hatch, you'll find all the essential controls for proper operation of your motorhome in the Technibox.
With Challenger, ergonomics are in the details.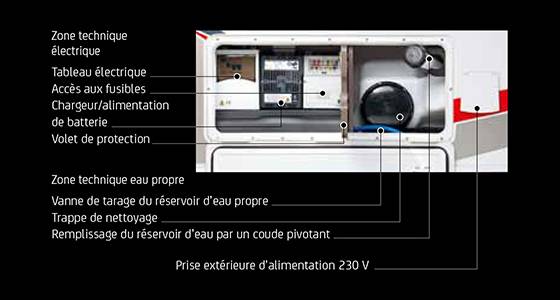 The all-in-one technical area
The electricity technical area gives you easy access to the electrical panel:
no more contortions when you change a fuse!
The clean water technical area lets you:
fill the water reservoir,
adjust reservoir capacity according to the number of travelers and/or the load transported,
easily clean the reservoir for maximum hygiene.
This compartment has a tray for collecting spilled water; water won't stagnate in the compartment and drains out through the opening designed for this purpose.
The Technibox is standard on all our overcabs and low profiles.
Maximum people protection
Challenger remains true to its convictions, so the company doesn't have to be constrained by a standard to ensure optimal protection for customers.
For example, we equip all our motorhomes with a 30 mA differential circuit breaker.
This means that we, too, can sleep soundly at night.
In contrast to a traditional circuit breaker that protects equipment, the differential circuit breaker also protects people. It will automatically shut off the current if it detects a loss of current corresponding to defective insulation.
This device thus allows protecting against short circuits and conductor overheating in case of overload.